So anyway, the ndp briefing sure went "well". In the previous post, we did mention that some of us were going to do some commerical thingy for NDP. So exciting right ! Argghh..its actually the first media briefing for National Parade, just some bunch of reporters asking a whole lot of questions and us performing in a small small area, with a low low roof. Oh wellz, at least we do get a little publicity, heard its gonna be on the news. The instructors were suppose to be there to do a mini performance to introduce the Singapore Cheer, that will mark NDP 2008. Unfortunately only amy and citra could make it, cause they had no school..so had to rope shawoon in for help. Karen.N and Zhaoming came to, cause they needed 6 cheerleaders to do the event. Poor shawoon had to have extra training the SUNDAY night before to pratice the arm motions for the cheer, only to later find out, that all he had to do was stunt. Good effort, you learn something new everyday dude, don't fret. So aniwaez, we came up with a small sequence to entertain the soulja boys who were oogling at our cheerleaders (the girls) and showing off their guns (right). This really weird guy, came up to us and told us how important it was to be high in energy and raise an atmosphere of fun, he actually tried to motivate us by talking like a cheerleader. A retarded one that is. LOL. Really bueh tahan, i was trying so hard to be professional, but i burst out in controlled laughter, it really didn't help that he was old and balding. So, they told us at first we had to do it once, then later twice, then later they wanted us to extend the cheer by repeating it. Haiz, kena cheated, then still wanna take advantage of us. Oh!! and did i forget to mention that it was only a rehearsal, the actual event is tomorrow morning!! thanks ar. There better be a good tea reception for us to munch on after the briefing, hopefully from Ritz Carlton, since its just opposite. Muahaha.
Speaking of commericals, Magnum did do a couple in the previous years, unfortunately the Sagiko (can drink) one was never aired on local television. Any one seen a Sagiko commercial of a bunch of brazilian cocopops doing cheerleading ??? Heres one i found on youtube that we did for the Anti-Sars campaign back in 2005 from 2.35mins onwards...some say leh, some say lah...magnum say, wa ha ha ha !!!
Friends from Bangkok U, did a Welch juice commercial as well, harhar, BU in tighty spandex as anti-oxidents. Love the commerical, its damn creative lah.
Omg, just realise how much we're missing BU, can't wait to see them real soon. Btw, they are really excited for us going to CAIO and send their regards. Unfortunately they can't make it to japan due to some association problem thingy in Thailand. But Hey BU, we'll meet real soon, here in Singapore, if everything goes well. Really really miss you guys.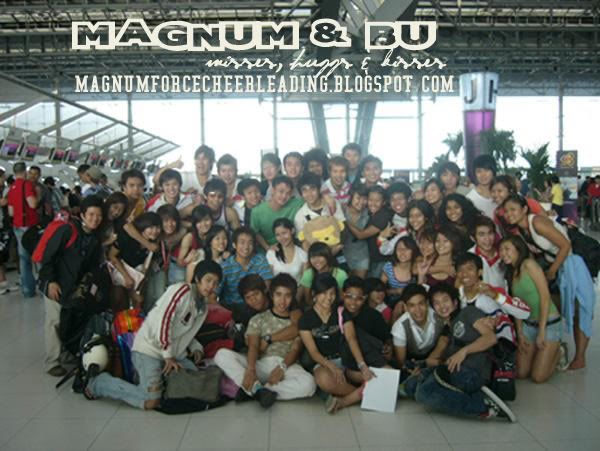 to end this post with a laugh is just a great idea and i especially dedicate this video to the juniors and those who need to go to the gym. Heres a cheer to motivate you to start going !!! plus !!! Gym werkz is totally free...
SWENSON'S SEASON HERE
SO WE JUST WROTE THIS CHEER
READY ? LETS GO
KILLER ABS AND .....(i think they saying something about tight arses)
WE COULD BE TALKING ABOUT YOU
WITH PRICES AT THE GYM SO LOW
THERES NO REASON NOT TO GO
PRICES SO LOW !!! YOU JUST HAVE TO GO !!!
SHHHHH
PRICES SO LOW....
http://www.youtube.com/watch?v=ZD0_vEDcpCo
Unfortunately they disabled embedding, so gotta click on the URL to watch.
Oh and by the way guys, i've created a Youtube account for us, to post Magnum Videos and add to the favourites of Magnum Videos, If you guys wanna upload or add anything please do so. The user name is MagnumForceCheer, password is same as our gmail account one ! People if you like to know whats going on with magnum and what inspires us, please click on the Magtube link under link em' up to find out more. YouTube bloody rocks !!!
over & out