Hey Ya'll Ngee Ann Freshmen Enthusiasts.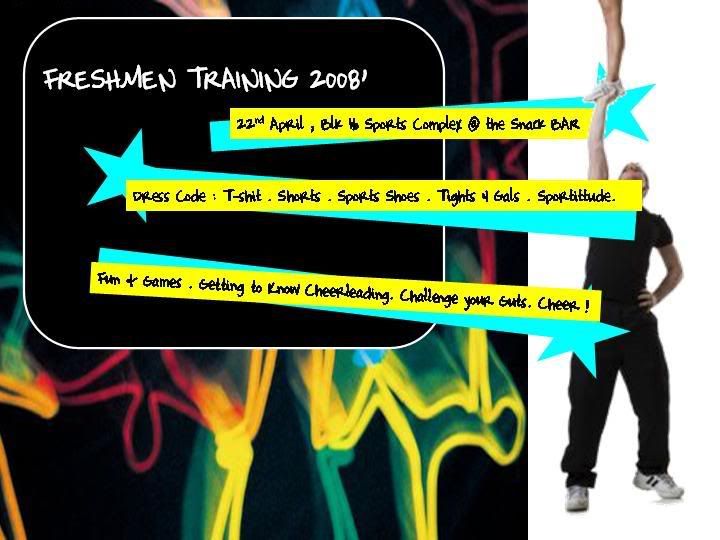 MEET AT 5.45 PM ( WHOOPS FORGOT TO INCLUDE IN THE POSTER )
Yes ! Magnum is recruiting again and we are looking out for anyone who is just about enthusiatic about challenging yourselves as we are. Don't cha worry, cause there won't be auditions to make it into this cheerleading team. Come with an open mind, a bag of guts and a keen sense of learning and you're all ready and set to go !
If you've been thinking of cheerleading or have this slight tinkle in you that wants to kill that curiousity of "HOW THE HELL DID THAT GUY LIFT A GIRL ON ONE HAND?"...come learn the tricks of the trade...cause cheerleading looks tough, but nothing can get in your way if you love new challenges.
Since CCA Fiesta is over and many have already signed up,
TRAINING WILL BEGIN this coming tuesday on the 22nd of April, 5.45pm at BLK 16 Sports Complex, meet @ the snack bar in your training attire and sport shoes. Girls, you wanna get some tights under those shorts. Oh yeah and bring along that sportittude, cause all cheerleaders are fun, crazy, performing atheletes by nature.
Please, please, please try to turn up then so we can fill you up with fun & games, introducing our world of cheerleading to you and maybe do a flip or two. Now don't you worry if you really can't make it, cause we train on other days too. However, please leave your interest by dropping us an email to cca_cheer@np.edu.sg
OR check out our notice board @ Blk 16 Sports Complex for Updates.
OR drop a message to our team president, Serena @ 97803824
See....there are so many ways for you not to give yourself a reason to not come and experience MAGNUM FORCE.
Cheers,
THE MAGNUM COMMITTEE 08' !!